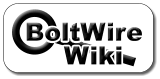 Boltwire Wiki Projects/Development
Boltwire is the software that this website is running under. It is a very flexible and extensible product that can provide web site, wiki, forum, blog and more capabilities.
Active sites using Boltwire:
Official Boltwire Sites
Images
Unofficial Logos and Images
Just playing around and created some different images for Boltwire.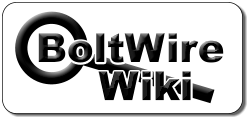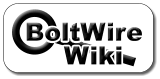 Click Images to Download - Images created using Xara Xtreme®
My Notes
After mucking around with Boltwire for a while, I've started to collect some notes and stuff about it. Primarily this is for my own use, but the ramblings might be useful for others.