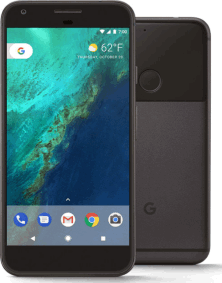 Google Pixel
I upgraded to the Google Pixel around January 2017. It has been an exceptional phone so far. This is the smaller version as opposed to the Google Pixel XL which a larger.
The Google Pixel is available via Google directly and supports AT&T, Verizon, T-Mobile, Sprint, MetroPCS out of the box and supports: CDMA2000 1X / GSM / WCDMA (UMTS)
I do have the Verizon version (from Verizon) which comes bootloader locked, so no root ability but found that I really didn't need root access anymore. The Basic OS includes abilities for what I require which include:
Ad Blocking - A Non-Root supported Ad Blocking method. I use AdGuard with good success.
Backups - while no image backups, I can easily backup my data and apps
Special Features - Most of the features I require are available in the stock OS now.
Specifications
Processor: 2.15GHz + 1.6GHz quad-core Qualcomm Snapdragon 821
Storage: 32GB and 128GB (I have the 128GB version)
Display Size: 5-inch; 1,920x1,080 pixels
Dimensions: 5.66x2.74x0.34 (at its thickest)
Weight: 5.04 oz; 143 g
OS: Android 7.2.1 Nougat
Cameras: 12.3-megapixel - 8-megapixels (Front facing)
RAM: 4GB
Battery: 2,770mAh
Expandable Storage: None
Finger Print Sensor: Back cover
Connector: USB-C
Special Features: Google Assistant built-in; unlimited cloud storage; Daydream VR ready
Info Pages (If any):